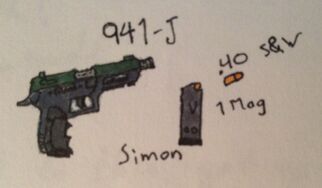 An obsolete handgun by American standards, it was by essential research alone that
Simon
found one of these interestingly hard-to-obtain pistols.  Originally called the Jericho 941,
Simon
 calls it the "941-J" like a Joke SCP (i.e. SCP-173-J) by abbreviating "Jericho" as "J" at the end of the name.  The weapon itself is surprisingly well-off in comparison to handguns like it, such as the P226 or Desert Eagle.  Before this discovery was made,
Simon
 used a variety of weapons the other Significant Characters use.  Weapons like the M1927, which
Isha
 uses, or the P226, which
Kari
uses.
Weapon Modifications
Although it can be chambered in 9x19 parabellum, this handgun is chambered in .40 special: the compromise between 9mm and a .45 ACP.  Surprisingly, this handgun exerts more power than an average .45 ACP M1911 in how much damage it does, odd isn't it?
A dual-trigger safety system was added to go along with the switch safety the handgun originally has for a "just in case" scenario
Another odd bit about this handgun is that the stock magazine size for a .40 special Jericho 941 is 12 rounds, but this one has 16 in a magazine
A threaded barrel has been added over the current barrel for additional accuracy with compensators and brakes (although none are put on anyways)
The sights have been swapped for self-illuminating tritium sights.  Contrary to the green eye color Simon has, the tritium sights glow a yellow-orange
Engraved on the side where it says "Jericho 941: Made in Israel", it is instead engraved with "

Si vis pacem, then move along"